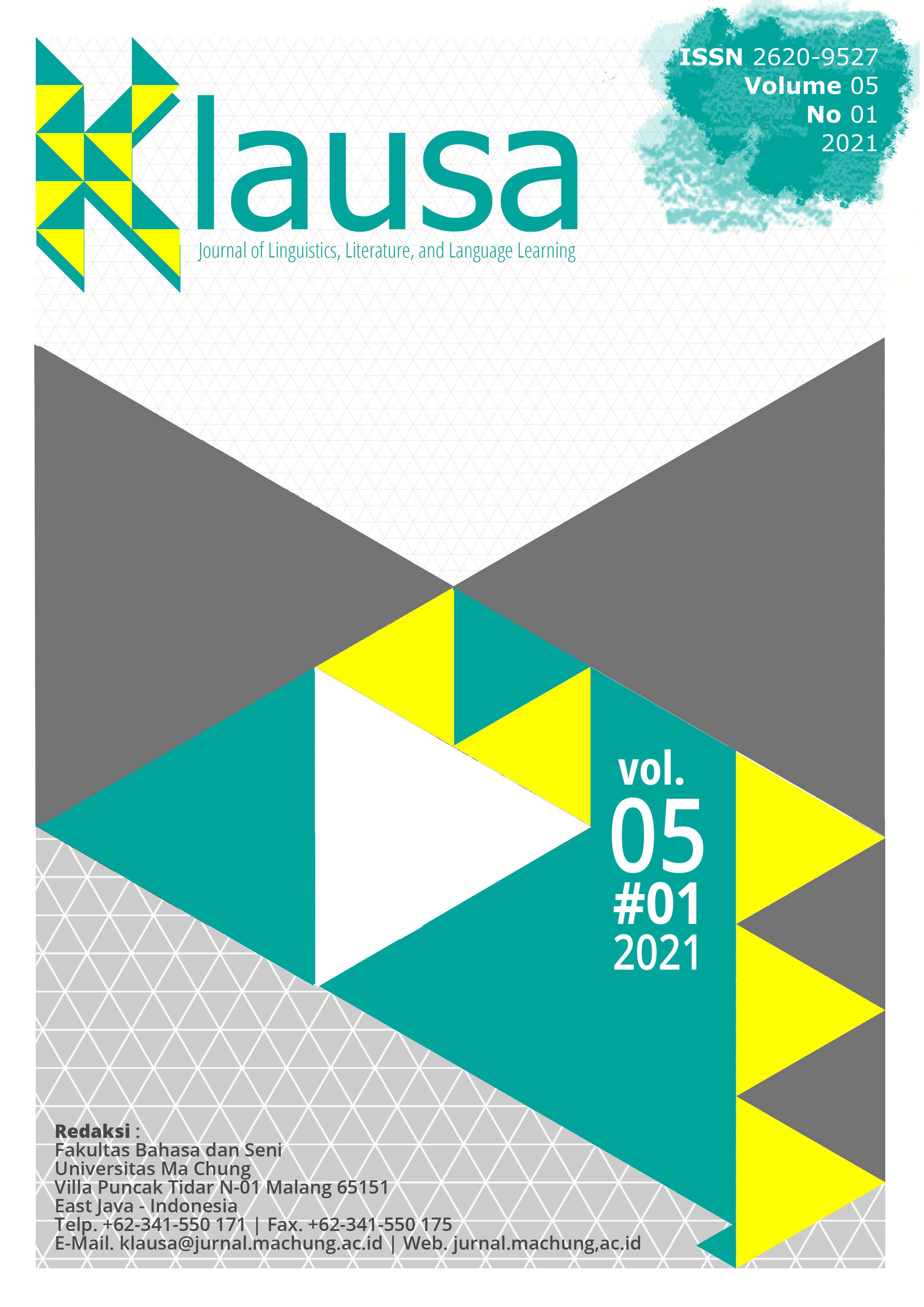 KLAUSA Vol 5 no 1 (2020) features several authors who present up-to-date studies in linguistics, literature and foreign language teaching (English and Mandarin). Khoirun Nisak examines the use of politeness strategies and rhetorical devices used by former US president Donald Trump. This ex-president manages to get sympathy from his people, mentioning that taking immediate measures on Iran is intended to make American people feel secure. In addition, he also persuades other nations to make Iranian regime stop the terror. In Trump's speech, he mentions stopping the terror and making peace and living in harmony with all nations in the whole world is to guarantee world peace.
Muhamad Deni Setiawan analyzes Sang Pemimpi, a film directed Riri Riza. He has found that this film undergoes significant changes in characterization in the sense that the main character becomes much wiser than the original version in the novel. Apart from that, this film also has a different plot than that of the novel while adding scenes outside the novel. However, in terms of the setting, the film creator has succeeded in making Belitung look awesome.
Laily Ramadhani studies Katharine Susannah Prichard' short stories, "Marlene" and "Flight". Half-caste is the mixed-descent in Australia in the old time. Half-caste, as the only race being disrespected in Australia, has been suffering in their lives. As the mixed-descents, half-caste has a stereotype of always obey the Whites. Half-caste is insisted on staying in the dark, no matter their faith, to go outside and find something better. These tragedies will bring trauma to every half-caste, and the wound will be stuck on them forever.
Wisnu Setya Budi and Febi Ariani Saragih examine the quality of Japanese text translations into Indonesian using Bing Translator. Bing Translator as an automatic translator can translate Japanese text into Indonesian. However, the quality of this translation machine is still in doubt. The results show that this Bing engine does not provide good results for several types of economic, political and health news in terms of the level of accuracy and readability. The quality of the translation is closely related to the rigid grammatical structure, and the use of unfamiliar terms.
Vincentius Valiandy Jiuangga studies vocabulary learning strategies among students at Universitas Ma Chung. He has found that Chinese background has little relevance on students' choice of learning strategies. The influence of ethnicity on students' vocabulary strategies is not obvious. The respondents use social strategies most frequently and memory strategies least frequently. In the use of memory strategies, Indonesian students seldom use vocabulary strategies; meanwhile, Chinese students seldom use word meaning coding strategy. Third, academic performance has little effect on students' vocabulary strategies.
Full Issue