ANALISIS PERGESERAN TERJEMAHAN BAHASA MANDARIN-INDONESIA PADA FILM AFTERSHOCK 《唐山大地震》 电影翻译转换分析
Reja Aprilla Brahmana

Universitas Sumatera Utara

Rudy Sofyan

Universitas Sumatera Utara

T. Kasa Rullah Adha

Universitas Sumatera Utara
Keywords:
Pergeseran terjemahan, Bahasa Mandarin, Bahasa Indonesia, Film
Abstract
Penelitian ini bertujuan untuk mendeskripsikan dan menganalisis pergeseran terjemahan subtitle film Aftershock dari bahasa Mandarin ke bahasa Indonesia. Metode penelitian ini adalah metode deskriptif kualitatif. Data berupa satuan lingual kata, frasa, klausa dalam bentuk narasi. Data dianalisis berdasarkan pergeseran terjemahan menurut Catford yakni category shift. Dari 40 data, terdapat unit shift sebanyak 16 data (40%), structure shift sebanyak 10 data (25%), class shift sebanyak 8 data (20%), dan intra system shift sebanyak 6 data (15%). Bentuk pergeseran terjemahan paling dominan pada film Aftrershock adalah unit shift dengan bentuk frasa ke kata yang disebut dengan down rank shift (40%). Pergeseran itu terjadi disebabkan karena pengaruh teknik dalam penerjemahan seperti pengurangan. Akibatnya, terjadi pergeseran peringkat dari bahasa sumber ke dalam bahasa sasaran. Penggunaan teknik pengurangan pada proses penerjemahan subtitle ini tidak mengubah makna bahasa sumber, justru dapat menjaga kealamiahan (naturalisasi) pada bahasa sasaran
References
Albir, A.H & Molina, L. (2002). Translation technique revisited: A dynamic and functionalist approach. Meta, 48(4). 498-512.

Baker, M. (1992). In other words: A course book on translation. Sage.

Bell, R.T. (1991). Translation and translating: Theory and practice. Longman.

Bungin, B. (2005). Metodologi penelitian kuantitatif: Komunikasi, ekonomi, dan kebijakan publik serta ilmu-ilmu sosial lainnya. Kencana Prenada.

Catford, J.C. (1965). A linguistic theory of translation. Oxford University Press.

Djajasudarma, F. (2006). Metode linguistik: Ancangan metode penelitian dan kajian. PT Refika Aditama.

Gunanda, A.D. (2016). Analisis pergeseran bentuk dan makna dalam terjemahan komik Les Aventures De Tintin. Skripsi. Program Studi Sastra Perancis Universitas Gadjah Mada

Handayani, A. (2009). Analisis ideologi penerjemahan dan penilaian kualitas kualitas terjemahan istilah kedokteran dalam buku lecture notes on clinical medicine. Skripsi. Universitas Negeri Surakarta.

Herman. (2014). Category Shifts in the English translation of Harry Potter and the Philosopher's Stone movie subtitle into Indonesia (an Applied Linguistics Study). Jurnal. Medan: Universitas HKBP Nommensen.

Ikhwan, M. (2017). Analisis kualitas terjemahan subtitle Film the Mermaid. Skripsi. Program Studi Sastra Cina Universitas Sumatera Utara.

Kartikaratri, L. (2016). Pergeseran terjemahan grup nominal bahasa Perancis dalam novel La Dame Aux Camelias. Skripsi. Program Studi Sastra Perancis Universitas Gadjah Mada.

Keraf, G. (1971). Komposisi. Penerbit Nusa Indah.

Kridalaksana, H. (2008). Kamus linguistik Edisi Keempat. PT Gramedia Pustaka Utama.

Larson, M.L. (1984). Meaning-based translation: A guide to cross language equivalence. University Of Press America.

Machali, R. (2000). Pedoman bagi penerjemah. PT Grasindo.

Mahsun. (2007). Metode penelitian bahasa: Tahapan strategi, metode, dan tekniknya. PT Rajagrafindo Persada.

Miles, M.B & Huberman, M.A. (1992). Analisis data kualitatif: Translated by tjetjep rohendi rohidi. Penerbit Universitas Indonesia (UI-Press).

Moleong, L.J. (2005). Metodologi penelitian kualitatif (Edisi Revisi). PT Remaja Rosda Karya.

Muchtar, M. (2012). Translation theory, practice and study. Bartong Jaya.

Muftipani, S. V. (2015). Pergeseran bentuk dan makna terjemahan teks Novel the Alchemist versi Bahasa Inggris ke dalam versi Bahasa Indonesia: Kajian Terjemahan. Skripsi. Universitas Widyatama, Fakultas Bahasa.

Napitupulu, G.W. (2014). Analisis pergeseran terjemahan dalam brosur Bahasa Mandarin-Indonesia. Skripsi. Program Studi Sastra Cina Universitas Sumatera Utara.

Nazir, M. (1988). Metode penelitian. Ghalia Indonesia.

Newmark, P. (1994). A textbook of translation. Shanghai Foreign Language Education Press.

Samsuri. (1981). Analisis bahasa. Penerbit Erlangga.

Simatupang, M. (1999). Pengantar teori terjemahan. Direktorat Jenderal Pendidikan Tinggi Departemen Pendidikan Nasional.

Sofyan, R & Tarigan, B. (2017). Thematic progression in the translation of student translators. Thailand: 9th International Conference on Language, Literature, Culture, and Education (ICLLCE).

Sudaryanto. (1993). Metode dan aneka teknik analisis bahasa. Duta Wacana University Press.

Suhaila. (2010). A unit shift of English Indonesian translation of "The Tale of the Three Brothers" By J.K. Rowling. Skripsi. State Islamic University Syarif Hidayatullah, Letters and Humanities Faculty.

Usman, H. (2008). Manajemen teori, praktik, dan riset pendidikan. Bumi Aksara.

Venuti, L. (1991). The translator's invisibility. A history of translation. Routledge.

Widyagani. (2012). Analisis pergeseran makna penerjemahan komik Bleach dalam bahasa Inggris dan bahasa Indonesia. Skripsi: Program Studi Sastra Inggris Universitas Indonesia.

Yusuf, S. (1994). Teori terjemah. CV. Mandar Maju.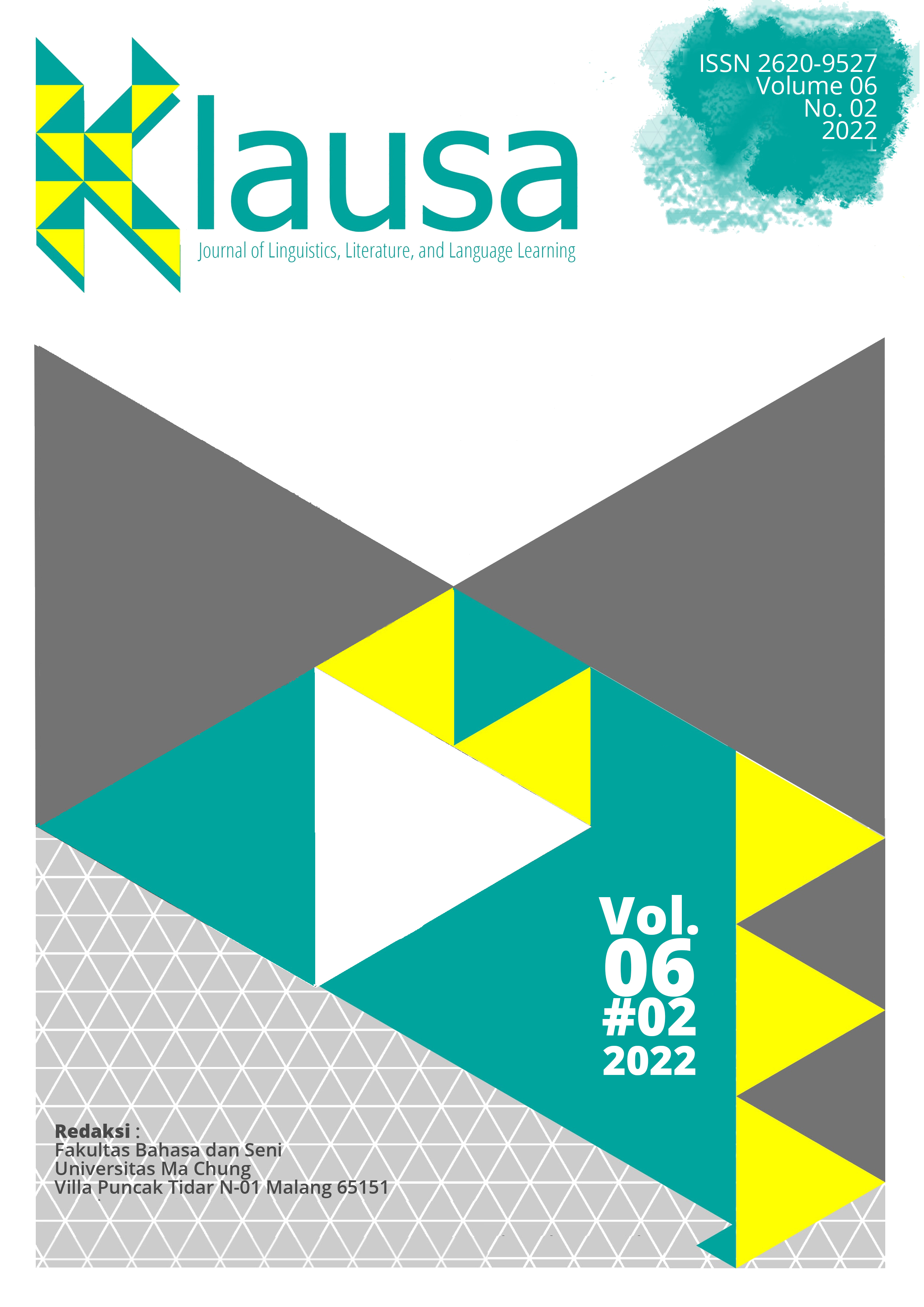 Open Access Policy
This is an open access journal which means that all content is freely available without charge to the users or their institution. Users are allowed to read, download, copy, distribute, print, search, or link to the full texts of the articles, or use them for any other lawful purpose, without asking prior permission from the publisher or the author. This is in accordance with the BOAI definition of open access.
This work is licensed under a Creative Commons Attribution-ShareAlike 4.0 International License.