STRATEGI MEMBACA TEKS NARATIF BAHASA MANDARIN MAHASISWA DI KELAS MEMBACA
Vincentia Shiella Vianney

Prodi Pendidikan Bahasa Mandarin Universitas Ma Chung

Daniel Ginting

Prodi Sastra Inggris Universitas Ma Chung
Keywords:
teks naratif bahasa Mandarin, kemampuan pemahaman teks, faktor yang mempengaruhi pemahaman teks
Abstract
Tulisan ini bertujuan untuk menggambarkan upaya-upaya mahasiswa untuk memahami teks naratif bahasa Mandarin dan meneliti faktor-faktor yang mempengaruhi pemahaman mahasiswa. Menggunakan metode deskriptif kualitatif, penelitian menggunakan media google form dan wawancara melalui Microsoft Teams untuk pengumpulan data. Dari hasil penelitian yang dilakukan ditemukan bahwa mayoritas responden (90%) termasuk dalam kategori tinggi, sementara 10% lainnya masuk dalam kategori menengah dan kategori rendah. Faktor-faktor yang mempengaruhi pemahaman mahasiswa terdiri dari dukungan keluarga, minat terhadap bahasa Mandarin, frekuensi belajar bahasa Mandarin, dan media belajar yang digunakan.
References
Arora. (2018). Analisis tulisan aksara Han pada bangunan vihara Dharma Bhakti di kota Banda Aceh: Suatu kajian semiotik.https://repositori.usu.ac.id/bitstream/handle/123456789/11045/140710042.pdf?sequence=1&isAllowed=y

Beck, I. L., & McKeown, M. G., and Kucan, L. (2002). Bringing words to life: Robust vocabulary instruction. Guilford Press.

Briggs, L. J. (1967). Instructional Media: A procedure for the design of multi-media instruction, a critical review of research, and suggestions for future research. https://eric.ed.gov/?id=ED024278

Brown, H. Douglas. (2001). Principles of languages Learning and Teaching. Pearson.

Casey, K. (2003). The Do's and Don'ts's for Improving Reading Comprehension. Retrieved from http://lteslj.org/technique.html

Djuwarsih, (2006). Learning and Teaching Strategies. Penerbit Wijaya Saputra.

Fehrenbach, C. R. (1991). Gifted/average readers: Do they use the same reading strategies? Gifted Child Quarterly, 35(3), 125-127.

Finch, M. A. (2003). Mission possible: Students reading in the science classroom. Science Scope, 26(4), 47-49.

Ginting, D. (2018). Building 21-Century Indonesian teachers' teaching capacities through the integration of technology into classrooms. KLAUSA (Kajian Linguistik, Pembelajaran Bahasa, dan Sastra), 2(02), 1-10.

Ginting, D., Fahmi, Utimadini, N.J., Barella, Y.. & Khatimah, H. (2022). The interplay of motivation and quality of instructions in the self-paced program: a MOOC for administration staffs, World Journal of English Language, 12(1), 198-210.

Ginting, D., Sulistyo, T., Ismiyani, N., Sembiring, M.J., Asfihana, R., Fahmi, A., Suarniti, G.A.M.R., Mulyani, Y.S. (2022). English language teacher's multimedia knowledge in teaching using technology, World Journal of English Language, 12(6), 184-203.

Huang, Borong & Li, W. 2014. 现代汉语 Bahasa Mandarin Modern. Peking University Press.

Ina. (2020). Strategi pembelajaran aksara Han pada pembelajaran Mandarin tingkat dasar.
https://www.researchgate.net/publication/351238184

Klippel, Frederike. 1989. Keep talking-comunikasi fluency activiies for language teaching.

Macleod, M. (2013). Types of reading. Retrieved from fis.ucalgary.ca/Brian/611/ reading type.Html #references.

Maxwell, M. J. Cognitive aspects of skimming: evidence and implications. Unpublished paper, 1971.

McIntosh, M. E., & Draper, R. J. (1995). Applying the question-answer relationship strategy in mathematics. Journal of Adolescent & Adult Literacy, 39(2), 120-131.

Nathan, R. G. & Stanovich, K. E. (1991). The causes and consequences in differences in reading fluency. Theory into Practice, 30(3), 176-184.

Olmscheid, C. (1999). Reading fluency: A critical component of reading instruction. ERIC, Resources in Education (ED 430 208).

Rahmawati, M., & Nugraha, S. I. (2020). Peranan keterampilan membaca pada proses prapenerjemahan dalam mencapai kesepadanan teks terjemahan. Diglosia: Jurnal Kajian Bahasa, Sastra, dan Pengajarannya, 3(2), 197-210.

Raphael, T. (1982). Improving question-answer performance through instruction. Center for the Study of Reading, Illinois University, Urbana, Eric database (ED 215 303).

Semiawan, Conny R. (2009). Psikologi anak berbakat. Gramedia.

Slameto. (2010). Belajar dan faktor-faktor yang mempengaruhinya. PT Rineka Cipta.

Sorrell, A. L. (1996). Triadic approach to reading comprehension strategy instruction. Paper presented at the 32nd Annual Conference of the Learning Disabilities Association of Texas. Austin, TX, from ERIC database (ED 400 670).

Stevens, K.C. (1980). The effect of background knowledge on the reading comprehension of ninth graders. Journal of Reading Behavior, 12(2), 151-154.

Sunarti, S., Tiksno, W., Lukluk, U.M., Dewi, K.A., Edy, H., Maria, M. (2020). New smart virtual content for Hanzi characters in Mandarin laboratories.

Swales,' J. M. (1990). Genre analysis. Cambridge University Press.

Syah, M. (2008). Psikologi belajar. PT Raja Grafindo Persada.

Tarigan, H. G. (2015). Pengajaran pemerolehan bahasa. Angkasa.

Vaezi, S. (2006). "Theories of reading". In Language Institute Language Teaching Journal. Vol. I Spring 2005. Iran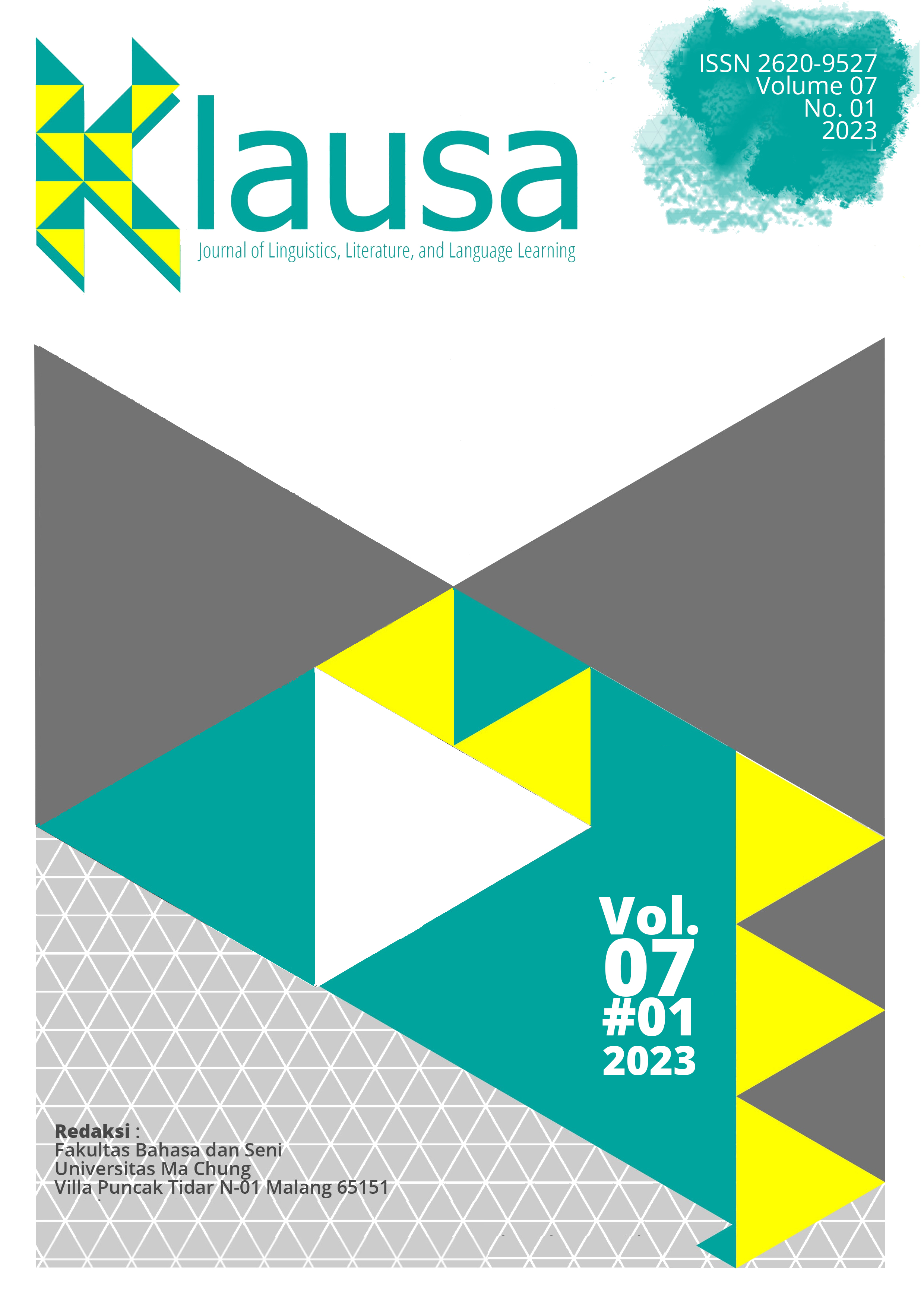 This work is licensed under a Creative Commons Attribution-ShareAlike 4.0 International License.
Open Access Policy
This is an open access journal which means that all content is freely available without charge to the users or their institution. Users are allowed to read, download, copy, distribute, print, search, or link to the full texts of the articles, or use them for any other lawful purpose, without asking prior permission from the publisher or the author. This is in accordance with the BOAI definition of open access.
This work is licensed under a Creative Commons Attribution-ShareAlike 4.0 International License.