IMPROVING VOCABULARY MASTERY THROUGH SEGONG GAME FOR FIRST-GRADE STUDENTS AT ALOK PUBLIC JUNIOR HIGH SCHOOL
Fatmawati Suaebas Ahmad

English Language Education Study Program Nusa Nipa University

Maria Louise Aprillia Lidia Sadin

English Language Education Study Program Nusa Nipa University

Vinsensia Yosefa De Rosari

English Language Education Study Program Nusa Nipa University
Keywords:
Segong game, vocabulary mastery, classroom action research
Abstract
Vocabulary proficiency plays a vital role in English language acquisition, enabling individuals to comprehend written texts and effectively articulate their ideas in oral and written communication. This article presents an academic study that focuses on enhancing the vocabulary competency of first-grade students through the implementation of traditional Segong activities. The research was conducted in the context of Alok Public Junior High School during the academic year 2022/2023. This study reexamines the efficacy of employing specific Segong traditional games as a strategy to facilitate the development of English vocabulary among students in an educational setting. The Segong game format was utilized to enhance students' vocabulary knowledge while harnessing the teacher's instructional prowess. The research employed a two-cycle classroom action research methodology, incorporating assessments, questionnaires, and observations to gather data. The findings reveal a substantial improvement in vocabulary mastery, as evidenced by an initial data analysis showing a percentage increase of 18% in the pre-cycles. Notably, the first cycle demonstrated a growth rate of 63%, while the second cycle witnessed a remarkable increase of 85.72%. These outcomes affirm the effectiveness of the Segong game in enhancing English vocabulary acquisition
References
Ali, M., & Aqobah, Q. J. (2020). Improving the balance movement of lower-grade students through the modification of Engklek traditional games. JP sd. Jurnal Pendidikan sekolah dasar, 6(1), 68-79. http://dx.doi.org/10.30870/jpsd.v6i1.7295

Anggraini, G., & Pujiastuti, H. (2020). Peranan Permainan Tradisional Engklek dalam Mengembangkan Kemampuan Matematika di Sekolah Dasar. JuMlahku: Jurnal Matematika Ilmiah STKIP Muhammadiyah Kuningan, 6(1), 87-101. https://doi.org/10.33222/jumlahku.v6i1.952

Anzar, S. F., & Mardhatillah, M. (2017). Analisis Kesulitan Belajar Siswa Pada Pembelajaran Bahasa Indonesia di Kelas V SD Negeri 20 Meulaboh Kabupaten Aceh Barat Tahun Ajaran 2015/2016. Bina Gogik: Jurnal Ilmiah Pendidikan Guru Sekolah Dasar. 4 (1).

Authar, N., Muflihah, T., Fidyaningrum, S. A., Hardiana, A. S., Azizah, A., & Ramadhani, D. (2021). Improving vocabulary mastery through the traditional game "Engklek" for children in Kalijaten village, kec. Taman, Kab. Sidoarjo. CEJ: Child Education Journal, 3(2), 92–99. https://doi.org/10.33086/cej.v3i2.2229

Ginting, D. (2018). Building 21-Century Indonesian Teachers' Teaching Capacities through the Integration of Technology into Classrooms. KLAUSA (Kajian Linguistik, Pembelajaran Bahasa, dan Sastra), 2(02), 1-10.

Ginting, D. (2021). Student engagement and factors affecting active learning in English language teaching. VELES: Voices of English Language Education Society, 5(2), 215-228.

Marzoan & Hamidi. (2017). Permainan Tradisional sebagai Kegiatan Ekstrakurikuler untuk Meningkatkan Kompetensi Sosial Siswa. Journal An-Nafs: Kajian Penelitian Psikologi, 5(1). 62-82. https://doi.org/10.33367/psi.v2i1.345

Odang, A. S., Igolois, S., Uran, G., & Janggo, W. O. (2023). Pictionary game for vocabulary mastery: Best practice from a rural school context. KLAUSA: Kajian Linguistik, Pembelajaran Bahasa, dan Sastra, 7(1), 28-36. https://doi.org/10.33479/klausa.v%vi%i.693

Roinah (2019). Problematika dalam pembelajaran bahasa Inggris di Stain Bengkalis. QUALITY: Journal of Empirical Research Islamic Education, 7(1), 153-166. http://dx.doi.org/10.21043/quality.v7i1.4966

Rosa, W. (2019). Peningkatan Kemampuan Mengenal Angka Melalui Permainan Engklek Modifikasi di TK Islam Iqra' Kinali Pasaman Barat. Inovtech: Innovation Technology Education, 1(2)

Syafrizal, S., Masrupi, M., & Mauludah, I. (2019). The impact of experiential learning method and vocabulary mastery toward Indonesian students' reading comprehension through animation video. Journal for the Education of Gifted Young Scientists, 7(3), 449–458. https://doi.org/10.17478/jegys.531412

Yulianti, F. (2017). Can Portek (Portable Engklek) be a Solution to Teach Vocabulary to English Young Learners. ETERNAL: English Teaching Journal, 8(2). 40-49. https://doi.org/10.26877/eternal.v8i2.2827

Zein, L. R., & Rahayu, R. (2022). Pentingnya Pengaruh Permainan Tradisional Engklek terhadap Motivasi dan Hasil Belajar Siswa SMP pada Materi Pencemaran Lingkungan. Jurnal Pendidikan Matematika dan Sains, 10(2), 109–114. https://doi.org/10.21831/jpms.v10i2.45531

Zulfa, K.A (2018). Upaya peningkatan prestasi belajar IPA melalui model pembelajaran make a match bagi siswa kelas IIIB MI Roudlotul Huda Semarang. Jurnal Profesi Keguruan, 4(1), 22-27. https://journal.unnes.ac.id/nju/index.php/jpk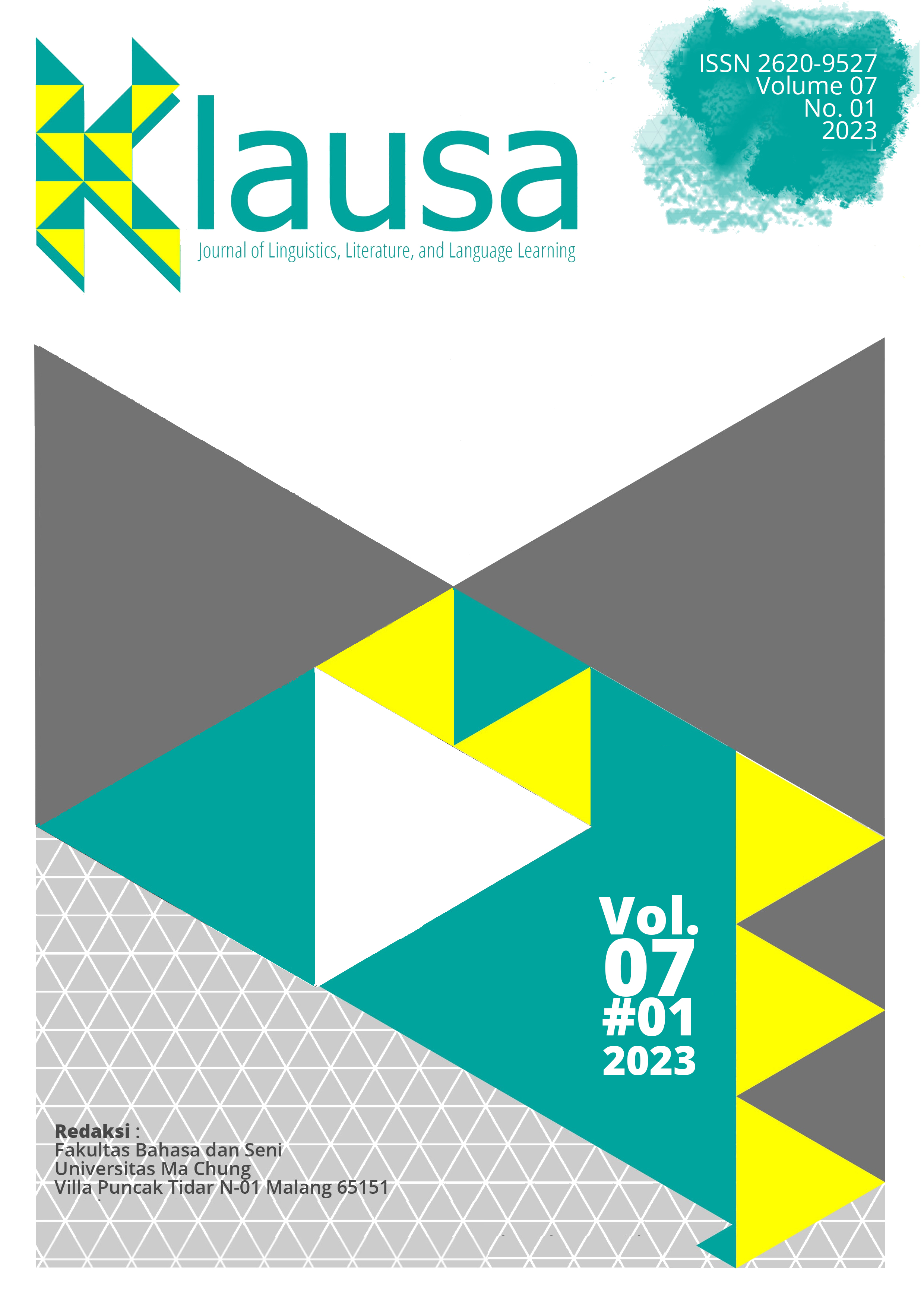 This work is licensed under a Creative Commons Attribution-ShareAlike 4.0 International License.
Open Access Policy
This is an open access journal which means that all content is freely available without charge to the users or their institution. Users are allowed to read, download, copy, distribute, print, search, or link to the full texts of the articles, or use them for any other lawful purpose, without asking prior permission from the publisher or the author. This is in accordance with the BOAI definition of open access.
This work is licensed under a Creative Commons Attribution-ShareAlike 4.0 International License.