AN ANALYSIS OF MOOD AND SPEECH FUNCTION IN THE TONIGHT SHOW STARRING JIMMY FALLON TALK SHOW
vina nafalia

English Education and Teaching Program, Faculty of Teacher Training and Education, Universitas Mercu Buana Yogyakarta

Elysa Hartati

English Education and Teaching Program, Faculty of Teacher Training and Education, Universitas Mercu Buana Yogyakarta
Keywords:
Dicourse, Interpersonal communication, Mood, Speech function, Talk Show
Abstract
This study aimed to find out the Interpersonal meaning that appeared in a conversation through the analysis of the Mood and speech function employed by the host and the guest star in The Tonight Show Starring Jimmy Fallon talk show. In analyzing the data, descriptive qualitative was used to interpret the data. The research findings showed that from the analysis, all of the Mood types were found in the conversation. The frequency of occurrence of types of Moods was 308 declarative, 11 interrogatives, and 5 imperatives. Meanwhile, there were only 3 speech functions out of 4 types of speech functions along with the responses employed by the host and the guest star. The data showed that the conversation was dominated by statements, followed by questions, and the last was command. Besides, both participants mostly responded to the interlocutor's statements by giving acknowledgment or contradiction.  Both the host and the guest star were actively taking turns to initiate giving – a demanding exchange by adopting a speech role and assigning a complementary one to the other. It showed that understanding interpersonal communication was not enough by only analyzing the lexicogrammar of the Mood and speech function through the constructed clauses in any discourse, but more in how the language was able to make meaning and maintain a relationship
References
Amalia, M., Subandowo, D., Faliyanti, E., & Thresia, F. (2018). An analysis of domain mood and modality of interpersonal meaning in Susilo Bambang Yudhoyono (SBY)'s Speech. English Language Teaching Educational Journal, 1(1), 22–28.

Arvelia, I. W., Salsabila, Z. N., & Utomo, A. P. Y. (2022). Analisis tindak tutur direktif beserta fungsinya pada kumpulan cerita pendek Senyum karya Amin Ahmad Tohari. KLAUSA (Kajian Linguistik, Pembelajaran Bahasa, dan Sastra), 6(2), 58-70.

Bruun, H. (1999). The aesthetics of the television talk show. Nordicom Review, 21(2), 243–258.

Christie, F., & Unsworth, L. (2000). Developing socially responsible language research. Researching Language in Schools and Communities: Functional Linguistic Perspectives, 1–26.

Eggins, S. (2004). Introduction to systemic functional linguistics. A&c Black.

Eggins, S., & Slade, D. (2004). Analysing casual conversation. Equinox Publishing Ltd.

Fauzi, S. (2013). Mood and speech function realizations of rights and responsibilities in "Twitter Terms of Service." Unpublished Bachelor's Thesis). Universitas Dian Nuswantoro.

Fikri, Z., Padmadewi, N. N., & Suarnajaya, I. W. (2014). Mood structure analysis of teacher talk in EFL Classroom: A discourse study based on systemic functional linguistic theory. Jurnal Pendidikan Bahasa Inggris Indonesia, 2(1).

Fraenkel, J. R., Wallen, N. E., & Hyun, H. H. (2012). How to design and evaluate research in education (Vol. 7). McGraw-hill New York.

Ginting, D. (2010). Distansi dalam ilmu pragmatik. Ma Chung Press

Halliday, M. A. K., Matthiessen, C. M. I. M., Halliday, M., & Matthiessen, C. (2014). An introduction to functional grammar. Routledge.

Hartati, E. (2015). The realization of interpersonal negotiation in the conversation. JELE (Journal of English Language and Education), 1(2), 151–169.

Ilie, C. (2006). Talk Shows. Encyclopedia of language and linguistics, 12, 489–494.

Lestari, K. (2019). Mood analysis on Muniba Mazari's speech.

Nisak, K., & Ariyanti, L. (2021). Management of politeness strategies and rhetorical devices in Donald Trump's speech during the conflict with Iran: Pragmatic view. KLAUSA (Kajian Linguistik, Pembelajaran Bahasa, dan Sastra), 5(1), 1-18.

Noor, M., Ali, M., Muhabat, F., & Kazemian, B. (2015). Systemic functional linguistics mood analysis of the last address of the Holy Prophet (pbuh). International Journal of Language and Linguistics. Special Issue: Critical Discourse Analysis, Rhetoric, and Grammatical Metaphor in Political and Advertisement Discourses, 3(5–1), 1–9.

Rahayu, I. A. (2022). An analysis of mood and speech function in the "Raya and the Last Dragon" Movie Script by Qui Nguyen and Adele Lim. Jurnal Pendidikan Edutama.

Sinaga, R. (2020). Flouting maxims in White House Down. KLAUSA (Kajian Linguistik, Pembelajaran Bahasa, dan Sastra), 4(02), 81-88.

Siregar, S. R. (2021). Speech function used in classroom interaction by teacher and student's in Truman Hutapea Channel Youtube.

Spradley, J. P. (2016). The ethnographic interview. Waveland Press.

Widiyanto, T., Pratama, H., & Haryanti, R. P. (2022). Speech functions and mood system realization in the finalists' speeches at miss grand international 2020. English Education Journal, 12(3), 373–380.

Wijaya, H. (2018). Analisis data kualitatif model Spradley (etnografi).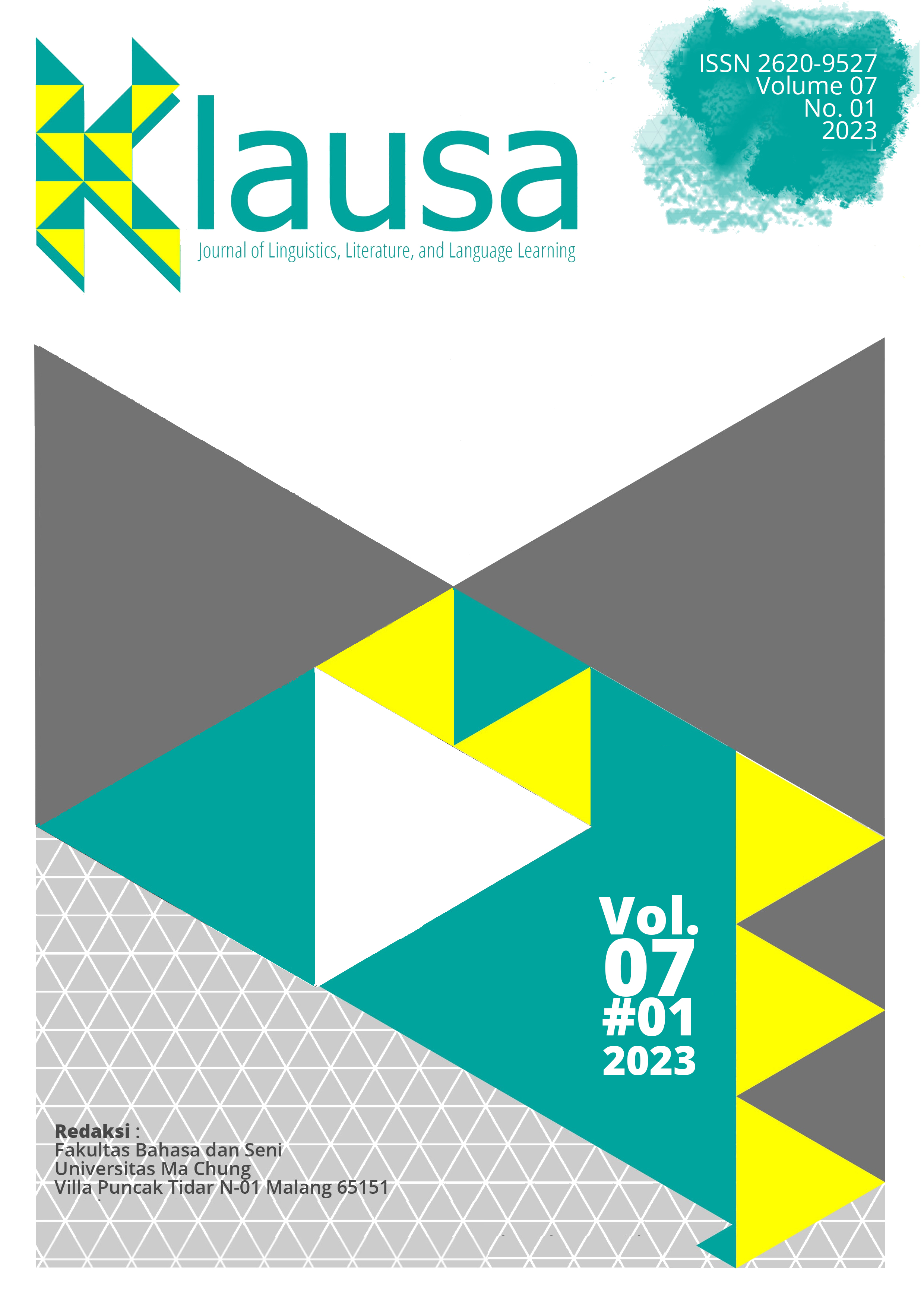 This work is licensed under a Creative Commons Attribution-ShareAlike 4.0 International License.
Open Access Policy
This is an open access journal which means that all content is freely available without charge to the users or their institution. Users are allowed to read, download, copy, distribute, print, search, or link to the full texts of the articles, or use them for any other lawful purpose, without asking prior permission from the publisher or the author. This is in accordance with the BOAI definition of open access.
This work is licensed under a Creative Commons Attribution-ShareAlike 4.0 International License.