MERDEKA CURRICULUM FOR HIGH SCHOOL ENGLISH LEARNING IN THE DIGITAL ERA
Nur Azmi Rohimajaya

Universitas Mathla'ul Anwar

Welliam Hamer

Universitas Sultan Ageng Tirtayasa
Keywords:
Curriculum, 2013 Curriculum, Merdeka Curriculum, English Subject, Content Analysis
Abstract
The digital era is a digital education environment where technical resources support teaching and learning. To determine educational performance, the curriculum must be adaptive to all contemporary concerns and changes. Following several curriculum reforms, the Merdeka Curriculum is currently being implemented in Indonesia. The Indonesian government has fully changed the curriculum possible to complete the educational goals anticipated in this digital era. This study compares the 2013 curriculum to the Merdeka curriculum for learning English at the senior high school level in terms of the basic framework, targeted competencies, curriculum structure, learning, assessment, teaching materials, and curriculum tools. The research design used in this study is a qualitative approach with content analysis. Based on the basic framework, targeted competencies, curriculum structure, learning process, assessment, teaching resources, and curriculum tool, this study shows similarities and differences between the 2013 and Merdeka curriculum.
References
Barlian, U. C., Solekah, S. & Rahayu, P. (2022). Implementasi kurikulum merdeka dalam meningkatkan mutu pendidikan. Journal of Educational and Language Research, 1(12), 2105-2118.

Bobbitt, F. (1918). The curriculum. Houghton Mifflin

Fatonah, S. Suyata, P., & Prasetyo, Z. (2013). Developing an authentic assessment model in elementary school science teaching. Journal of Education and Practice, 4(13), 50-61

Fujiati, H., Hartono, R., & Fitriati, S. W. (2020). The implementation of curriculum 2013 in teaching speaking skill at MAN 2 Bima. English Education Journal. 10(3), 292-300.

Ginting, D. (2018). Building 21-Century Indonesian teachers' teaching capacities through the integration of technology into classroom. Klausa, 2(2), 1-10.

Ginting, D., Sulistyo, T., Ismiyani, N., Sembiring, M.J., Asfihana, R., Fahmi, A., Suarniti, G.A.M.R., Mulyani, Y.S. (2022). English language teacher's multimedia knowledge in teaching using technology, World Journal of English Language, 12(6), 184-203.

Ginting, D., Fahmi, F., Barella, Y., Hasbi, M., Kadnawi, K., Rojabi, A.R., & Zumrudiana, A. (2022). Students' perception on TPACK practices on online language classes in the midst of pandemic. International Journal of Evaluation and REsearch in Education (IJERE), 11(4), 1995-2009.

Hariharasudan, A., & Kot, S. (2018). A scoping review on digital English and education 4.0 for industry 4.0. Social Sciences, 7(11), 1-13. DOI: https://doi.org/10.3390/socsci7110227

Indarta, J., Waskito, S., & Riyanda, A. (2022). Relevansi kurikulum merdeka belajar dengan model pembelajaran abad 21 dalam perkembangan era society 5.0. Edukatif: Jurnal Imu Pendidikan, 4(2), 3011-3024

Kemdikbud. (2022). Keputusan Kepala Badan Standar, Kurikulum, Dan Asesmen Pendidikan Kementerian Pendidikan, Kebudayaan, Riset, Dan Teknologi Nomor 008/h/kr/2022 tentang capaian pembelajaran pada pendidikan anak usia dini, jenjang pendidikan dasar, dan jenjang pend. Diakses dalam
https://kurikulum.kemdikbud.go.id/wp-content/unduhan/CP_2022.pdf.

Maryono, G. D. & Emilia, E. (2022). An analysis of International Baccalaureate – English language curriculum for middle year program. Parole Journal of Linguistics and Education. 12(1), 69-80.

Nugroho, T. & Narawaty, D. (2022). Kurikulum 2013, kurikulum darurat, dan kurikulum prototipe (2020-2021) atau kurikulum merdeka (2022) mata pelajaran bahasa inggris: suatu kajian bandingan. Sinastra, 1(1), 373-382.

Raharjo. (2020). Analisis perkembangan kurikulum PPKN: dari rentjana pembelajaran 1947 sampai kurikulum merdeka belajar 2020. PKn Progresif, 15(1), 63-82.

Sapitri, L. (2022). Studi literatur terhadap kurikulum yang berlaku di Indonesia saat pandemic Covid-19. Inovasi Kurikulum, 19 (2), 227-238.

Sari, N. Y. & Sinthiya, I. A. P. A. (2022). Strategi penguatan profil pelajar Pancasila di SMA Negeri 2 Gadingrejo. Jurnal Manajemen Pendidikan Al Mutazam, 4(2), 50-59.

Setiawan, R., Syahria, N., Adanty, F. D., & Nabhan, S. (2022). Pengembangan modul ajar kurikulum merdeka mata pelajaran bahasa Inggris SMK kota Surabaya. Jurnal Gramaswara, 2(2), 49-62.

Setiawan, W. (2017). Era digital dan tantangannya. Seminar Nasional Pendidikan 2017. Diakses dalam https://core.ac.uk/download/pdf/87779963.pdf

Sharma, M. (2017). Teacher in a digital era. Global Journal of Computer Science and Technology, 16(3), 10-14.

Sofiana, N., Mubarok, H., & Yuliasri, I. (2019). English language teaching in secondary schools: an analysis of the implementation of Indonesian. International Journal of Instruction, 12(1), 1533-1544.

Thoyyibah, N., Hartono, R., & Bharati, D. A. L. (2019). The implementation of character education in the English teaching learning using 2013 curriculum. English Education Journal, 9(2), 254-266.

Tyler, R. W. (1957). Basic principles of curriculum and instruction. The University of Chicago Press. Ltd.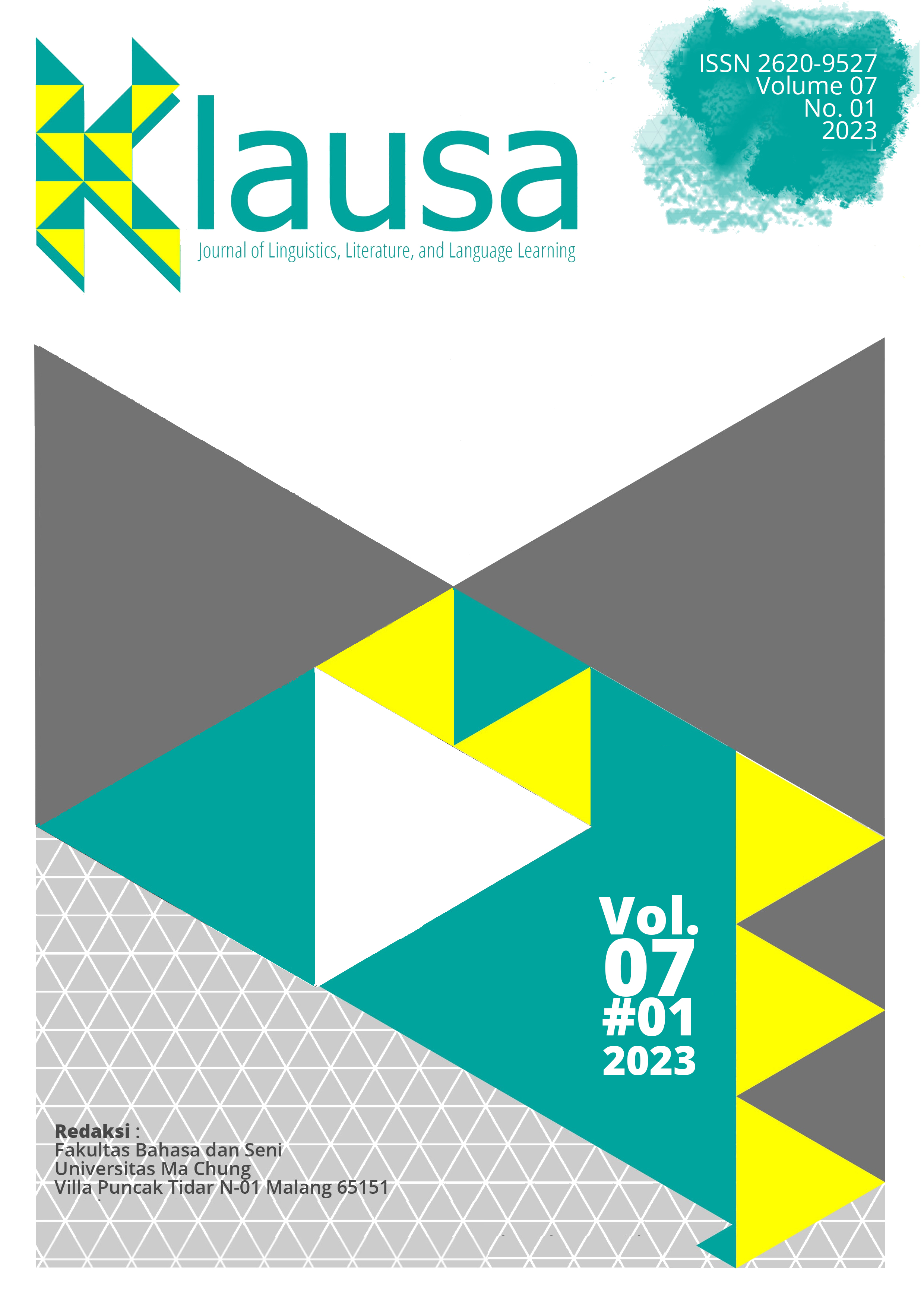 This work is licensed under a Creative Commons Attribution-ShareAlike 4.0 International License.
Open Access Policy
This is an open access journal which means that all content is freely available without charge to the users or their institution. Users are allowed to read, download, copy, distribute, print, search, or link to the full texts of the articles, or use them for any other lawful purpose, without asking prior permission from the publisher or the author. This is in accordance with the BOAI definition of open access.
This work is licensed under a Creative Commons Attribution-ShareAlike 4.0 International License.