Perancangan Aset Visual 3D Virtual Reality (VR) Gedung Universitas Ma Chung Sebagai Media Pengenalan Mahasiswa Baru
Sultan Arif Rahmadianto

Universitas Ma Chung

Bintang Pramudya Putra Prasetya

Universitas Ma Chung

Wilson Soen

Universitas Ma Chung
Keywords:
Virtual 3D Aset, Virtual Reality, Ma Chung University
Abstract
The rapid advancement of digital technology has brought significant benefits in addressing various human needs. Amidst this technological progress, Virtual Reality (VR) stands out as one of the most remarkable achievements in the world of technology. In recent years, VR has undergone rapid development, enabling users to experience deeper and more immersive interactions. This extends beyond the realms of entertainment and gaming, as VR has found widespread applications in education, training, art, and even the medical field. Universitas Ma Chung, a private university located in Malang Regency, is committed to delivering high-quality education and preparing graduates for national and international competitiveness. The university encompasses a range of facilities, including five main buildings: the Rectorate building, Bakti Persada, Student Center, Balai Pertiwi, and RnD. However, new students often possess limited information regarding these facilities, emphasizing the need for an effective and engaging medium for introducing these resources as part of academic service enhancement. The research methodology employed in this design utilizes a qualitative approach. The primary objective of this design is to create 3D visual assets to be utilized within the VR environment, serving as a tool for introducing new students. The outcome of this endeavor results in the development of 3D visual assets for the Rectorate building, Bakti Persada, Student Center, Balai Pertiwi, and RnD. The next researchers can leverage the aforementioned VR to create a more interactive and immersive orientation experience for new students. By utilizing the designed 3D visual assets, new students can virtually explore the university facilities before arriving on campus.
References
Abdussamad, Z. H. (2021). Metode Penelitian Kualitatif. (P. R. C. I, Ed.). Syakir Media Press.

Danuri, M. (2019). Development and transformation of digital technology. Infokam, XV(II), 116–123.

Hoyles, C., & Lagrange, J. B. (2010). Mathematics Education and Technology Rethinking the Terrain. New York: Springer.

Kubanova, A. (2016). The process of creating a 3D model of a hotel interior. University of Applied Science.

Momenta, R., & Kalaway, R. (2022). Perancangan Virtual Tour untuk Pengenalan Kampus Bagi Mahasiswa di Universitas Kristen Wira Wacana Sumba. Institut Riset dan Publikasi Indonesia (IRPI.

Putro, H. (2015). Makalah Studi Mandiri Kajian Virtual Reality. Teknik Arsitektur Universitas Gajah Mada.

Sari, I., & Fadya, M. (2018). Modelling 3D dan Animating Karakter pada Game Edukasi "World War D" Berbasis Android. Politeknik Negeri Jakarta.

Wibowo, M. (2022). Pemodelan Dengan Blender 3D. Yayasan Prima Agus Teknik. Semarang.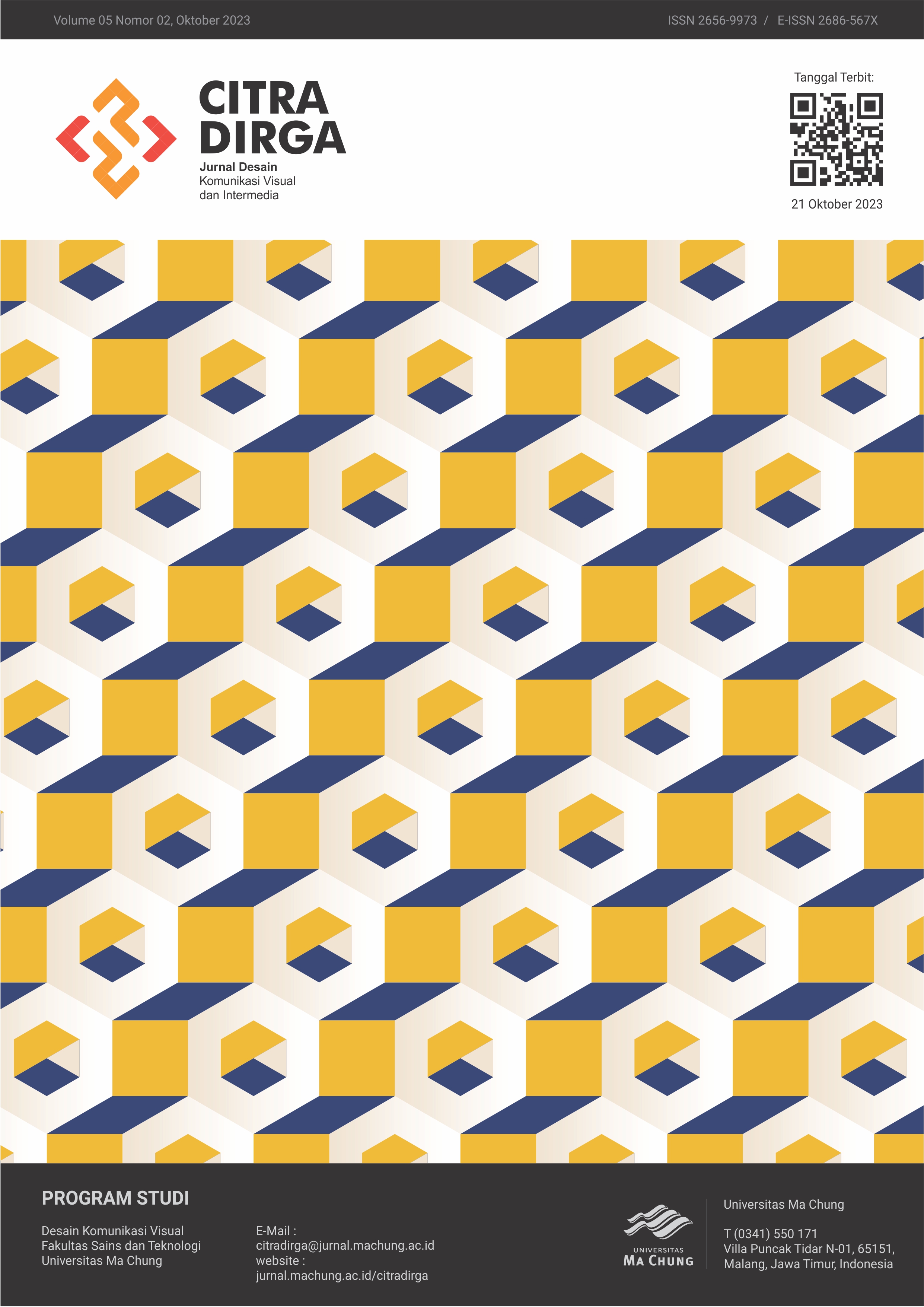 This work is licensed under a Creative Commons Attribution-ShareAlike 4.0 International License.