Perancangan Buku Fotografi Esai "Hygge" untuk Menarik Minat Wisatawan dan Masyarakat di Kota Malang
Tiffany Yosephine

Universitas Ma Chung

Didit Prasetyo Nugroho

Universitas Ma Chung
Keywords:
Essay photography, photo book, interior photography, cozy cafe, life style
Abstract
Theemergence of various kinds of cafes in Malang City has created a new lifestyle, namely gathering with friends, especially for the younger generation. This lifestyle makes cafes continue to appear in Malang City with concepts that are liked by this generation, one of which is the cozy concept. But this makes the cafés that keep popping up pay less attention to quality in terms of atmosphere and menu because they focus too much on the cozy interior that the younger generation likes. Therefore, information media is needed that can attract tourists and the public in choosing and visiting cafes not only based on trends, through making designs that aim to get concept visualizations through the media of essay photography books that contain information about 8 cafes with cozy concepts in Malang City. The design method used is the creative communication design method and is combined with qualitative data collection methods. This essay photography book uses interior and food photo styles, with a book size of 22.4 x 17 cm with a total of 248 pages, full color, and bound using doff laminated hardcover. The conclusion of this design is to get a visualization of the concept of an essay photography book to provide information about cozy cafes through photo visualization along with narratives through book media and supporting media such as bookmarks, tote bags, photo sheets, stickers, tumblers, acrylic straws, diffusers, and marketing media through social media Instagram.
References
Jayani, D. H. (2021). Proporsi populasi generasi Z dan milenial terbesar di Indonesia. Di akses 30 juni 2022 dari https://databoks.katadata.co.id/datapublish/2021/05/24/proporsi-populasi- generasi-z-dan-milenial-terbesar-di-indonesia

Nugroho, B. M. P. (2021). Paradox coffee, kedai minimalis dengan sentuhan industrial di Malang. Diakses dari 29 Januari 2022, https:// pingpoint.co.id/berita/paradox-coffee-kedai-minimalis-dengan- sentuhan-industrial-di-malang/

Sanyoto, S. E. (2006). Metode perancangan komunikasi visual periklanan. Dimensi Press.

Sugiyono. (2013). Metode penelitian kuantitatif, kualitatif, dan R&D. Alfabeta.

Yonas, A. R. Mengenal konsep hygge: cara bahagia ala masyarakat Denmark,. Diakses 5 Juli 2022 dari https://kumparan.com/adya- yonas/mengenal-konsep-hygge-cara-bahagia-ala-masyarakat-denmark- 1vSjBm1fq46/full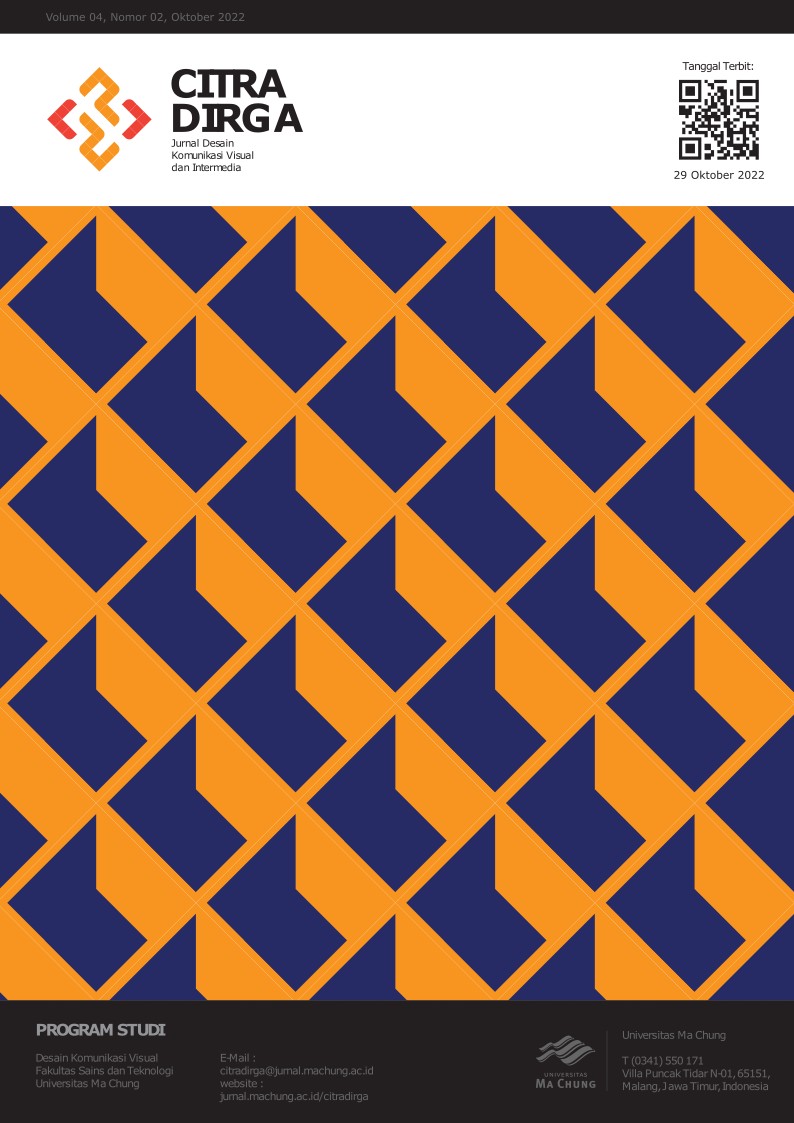 This work is licensed under a Creative Commons Attribution-ShareAlike 4.0 International License.