PEMEDIASIAN ANTARA PENGARUH E-WOM TERHADAP REPURCHASE INTENTION DENGAN MEDIASI BRAND IMAGE PADA PRODUK SKINCARE MEREK LOKAL INDONESIA YANG ADA DI E-COMMERCE
Meilisa Regina Putri

Universitas Ciputra

Krismi Budi Sienarta

Universitas Ciputra
Abstract
The beauty industry in Indonesia has experienced rapid growth since early 2020 due to high public demand for beauty products. Skincare products with local brands have sprung up a lot. These local skincare product brands are competing to build a positive image through social media so that positive reviews emerge from users of these skincare products. It is hoped that positive reviews from various e-commerce channels will generate repeated buying interest. The purpose of this study was to examine the effect of Electronic Word-of-Mouth (E-WOM) on purchase intentions and its impact on the brand image of Indonesian local skincare products. By examining the relationship between E-WOM and purchase intention, this study aims to find out how online recommendations and discussions influence consumer tendencies to buy products. This research was conducted using a quantitative research approach. The population in this study are all people who use e-commerce applications such as Shopee or Tokopedia to buy products. A total of 90 respondents were taken as samples for this study. The sampling technique used was non-probability purposive sampling, in which respondents were selected purposively based on certain criteria relevant to the study. Data obtained from respondents were then analyzed using the Partial Least Square (PLS) technique. The results of this study indicate that brand image has a significant influence on purchase intention. Consumer reviews on the internet play an important role in shaping brand image, although they do not have a significant influence on consumer purchase intentions.
Keywords: E-WOM, Repurchase Intention, Brand Image
References
Access, O., Putri, L. M., & Rahyuda, K. (2021). Open Access THE ROLE OF BRAND IMAGE MEDIATES THE EFFECT OF E-WOM ON PURCHASE INTENTION Larasati Malda Putri , Ketut Rahyuda. 2, 531–541.
Al Qaimari, R., Al Hassan, M., Al Dmour, H., & Aloqaily, A. (2021). The effect of the electronic word of mouth on purchase intention via the brand image as a mediating factor: an empirical study. International Journal of Networking and Virtual Organisations, 24(2), 182. https://doi.org/10.1504/ijnvo.2021.10037256
Alwan, M., & Alshurideh, M. T. (2022). The effect of digital marketing on purchase intention: Moderating effect of brand equity. International Journal of Data and Network Science, 6(3), 837–848. https://doi.org/10.5267/j.ijdns.2022.2.012
Arthana, Y. W., & Rukhviyanti, R. N. (2015). Jurnal Informasi Volume VII (Issue 1).
Handoko, N. T., & Melinda, T. (n.d.). EFFECT OF ELECTRONIC WORD OF MOUTH ON PURCHASE INTENTION THROUGH BRAND IMAGE AS MEDIA IN TOKOPEDIA. Business and Accounting Research (IJEBAR) Peer Reviewed-International Journal, 5. https://jurnal.stie-aas.ac.id/index.php/IJEBAR
Heru, O., Rokhmawati, N., Kuncorowati, H., & Supardin, L. (2022). PENGARUH HARGA, IKLAN DAN CITRA MEREK TERHADAP MINAT BELI HONDA SCOOPY DI YOGYAKARTA. 11(1). http://stp-mataram.e-journal.id/JIH
Indriany, Y., Hastuti, S., & Indrisetno P.V, D. (2022). ANALISIS CITRA MEREK DAN SIKAP KONSUMEN TERHADAP KEPUTUSAN PEMBELIAN PADA APLIKASI MAKANAN ONLINE (Studi Kasus Pelanggan Aplikasi Go Food, Grab Food, Shopee Food). JURNAL LENTERA BISNIS, 11(2), 205. https://doi.org/10.34127/jrlab.v11i2.539
Jalilvand, M. R., & Samiei, N. (2012). The effect of electronic word of mouth on brand image and purchase intention: An empirical study in the automobile industry in Iran. Marketing Intelligence and Planning, 30(4), 460–476. https://doi.org/10.1108/02634501211231946
Kamtarin, M. (2012). The Effect of Electronic Word of Mouth, Trust and Perceived Value on Behavioral Intention from the Perspective of Consumers. International Journal of Academic Research in Economics and Management Sciences, 1(4).
Komang, N., Rahayu, D. P., Made Estiyanti, N., Gusti, I., Agung, L., & Putra, R. (n.d.). Analisa Pengaruh E-CRM Dan E-WOM Pada Minat Customer Harris Hotel Sunset Road.
Manajemen, J., Dewantara, B., Aryatilandi, S., Ramdan, A. M., & Sunarya, E. (2020). Seira Aryatilandi, Asep Muhammad Ramdan, Erry Sunarya Analisis Word Of Mouth Dan Brad Image Terhadap Keputusan Pembelian Smartphone Di Kota Sukabumi (Vol. 3, Issue 1). http://ejournal.stiedewantara.ac.id/index.php/JMD/issue/view/50
Nurdin, S., & Wildiansyah, V. (2021). PERAN MEDIASI CITRA MEREK PADA HUBUNGAN ANTARA ELECTRONIC WORD OF MOUTH (E-WOM) OLEH BEAUTY VLOGGER DAN MINAT BELI PRODUK KOSMETIK. In Jurnal Sain Manajemen (Vol. 3, Issue 1). http://ejurnal.ars.ac.id/index.php/jsm/index
ONURLUBAŞ, E. (2019). THE MEDIATING ROLE OF BRAND IMAGE ON THE EFFECT OF ELECTRONIC WORD OF MOUTH MARKETING ON PURCHASING INTENTION. The Journal of Academic Social Sciences, 88(88), 152–174. https://doi.org/10.16992/asos.14739
Pranatawijaya, V. H., Widiatry, W., Priskila, R., & Putra, P. B. A. A. (2019). Penerapan Skala Likert dan Skala Dikotomi Pada Kuesioner Online. Jurnal Sains Dan Informatika, 5(2), 128–137. https://doi.org/10.34128/jsi.v5i2.185
Putri, N., & Sukawati, T. (2019). PERAN CITRA MEREK MEMEDIASI PENGARUH E-WOM TERHADAP NIAT BELI (Studi Kasus pada Maskapai Penerbangan AirAsia di Kota Denpasar). E-Jurnal Manajemen, 8(7), 4268 - 4297. doi:10.24843/EJMUNUD.2019.v08.i07.p10
Sabreen Abd Eljalil, P. G., & Mahmoud Mohamed Hassan Mohamad Ezzat, A. (n.d.). PENGARUH E-WOM TERHADAP AIRLINES SWASTA MESIR NIAT PEMBELIAN TIKET.
Sidharta, R. B. F. I., Sari, N. L. A., & Suwandha, W. (2018). PURCHASE INTENTION PADA PRODUK BANK SYARIAH DITINJAU DARI BRAND AWARENESS DAN BRAND IMAGE DENGAN TRUST SEBAGAI VARIABEL MEDIASI. MIX: JURNAL ILMIAH MANAJEMEN, 8(3), 562. https://doi.org/10.22441/mix.2018.v8i3.007
Soebakir, B. D., Lumanauw, B., & Roring, F. (2018). THE INFLUENCE OF BRAND, PRICE, AND SERVICE QUALITY ON THE DECISION OF CUSTOMERS TO BUY IN KEDAI GUDANG IMAJI MANADO. Pengaruh Brand… 3843 Jurnal EMBA, 6(4), 3843–3852.
Wahyudin, M., & Nahar Azali, F. (2020). Consumer shopping behavior through online store for food and beverages. IOP Conference Series: Earth and Environmental Science, 425(1). https://doi.org/10.1088/1755-1315/425/1/012026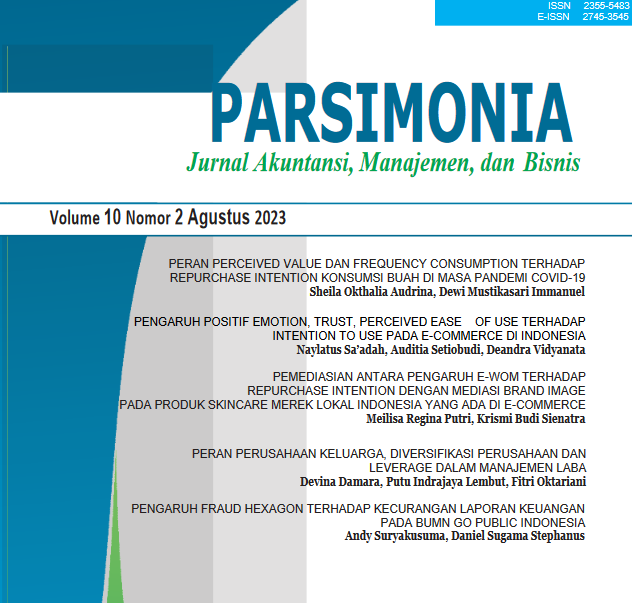 This work is licensed under a Creative Commons Attribution 4.0 International License.
Makalah yang disampaikan diasumsikan tidak mengandung bahan proprietary yang tidak dilindungi oleh hak paten atau aplikasi paten; tanggung jawab untuk konten teknis dan untuk perlindungan dari bahan proprietary merupakan tanggung jawab penulis dan organisasi mereka dan bukan tanggung jawab dari Jurnal Parsimonia atau Staff Pengelolanya. Penulis utama (pertama/yang sesuai) bertanggung jawab untuk memastikan bahwa artikel tersebut telah dilihat dan disetujui oleh semua penulis lain. Hal ini merupakan tanggung jawab penulis untuk mendapatkan semua izin pelepasan hak cipta yang diperlukan untuk penggunaan setiap materi dalam naskah sebelum pengajuan.