STUDI EMPIRIS PENGAMBILAN KEPUTUSAN INVESTASI INVESTOR KOTA MALANG PADA MASA PANDEMI COVID-19
Fadhiil Dzakwan Qushoyyi

Universitas Ma Chung
Keywords:
Behavior Finance, Heuristic Theory, Decision Making, Malang Investors
Abstract
The purpose of this study was to examine the effect of Anchoring, Representativeness, Availability and Overconfidence on Decision Making. Respondents in this study were Indonesian Capital Market Investors in Malang City. Respondents in this study amounted to 55 respondents. This study use the Multiple Linear Regression test tool. The results of this study indicate that Anchoring, Representativeness and Availability have no significant effect on Investor Decision Making in Malang City. Meanwhile, overconfidence has a significant effect on investors' decision making in Malang City. This study shows that there are several heuristic variables that do not affect investor decisions caused by other dimensional factors. Another dimension factor that causes differences in the results of empirical evidence is in Culture and Knowledge Sharing. In the context of Culture, each region has different characteristics of individual behavior. Knowledge Sharing as a factor also has a role in influence individual characteristics at decision making. Each individual has diversity and different level of knowledge sharing depending on the individual's ability to understand the knowledge obtained.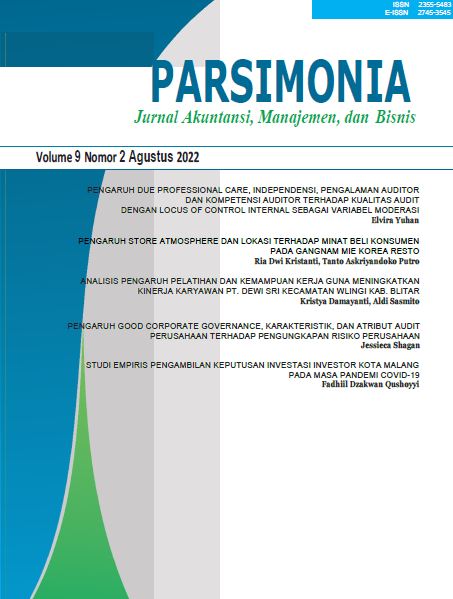 This work is licensed under a Creative Commons Attribution 4.0 International License.
Makalah yang disampaikan diasumsikan tidak mengandung bahan proprietary yang tidak dilingkungi oleh hak paten atau aplikasi paten; tanggung jawab untuk konten teknis dan untuk perlindungan dari bahan
proprietary merupakan tanggung jawab penulis dan organisasi mereka dan bukan tanggungjawab dari parsimonia atau staff redaksinya, penulis utama (pertama/yang sesuai) bertanggungjawab untuk
memastikan bahwa artikel tersebut telah dilihat dan disetujui oleh semua penulis lain. ini adalah tanggungjawab penulis untuk mendapatkan semua izin pelepasan hak cipta yang diperlukan untuk penggunaan
setiap materi berhak cipta dalam naskah sebelum pengajuan