PENGARUH GOOD CORPORATE GOVERNANCE, KARAKTERISTIK, DAN ATRIBUT AUDIT PERUSAHAAN TERHADAP PENGUNGKAPAN RISIKO PERUSAHAAN
Jessieca Shagan

Universitas Ma Chung
Keywords:
Risk Disclosure, Good Corporate Governance, Company Characteristics, Company Audit Attributes, Mining Companies
Abstract
The purpose of this study is to analyze the effect of good corporate governance, characteristics, and audit attributes on the disclosure of company risk in the mining sector listed on the Indonesia Stock Exchange in 2019-2021. Risk disclosure is believed to have a role in increasing the credibility of the company's financial reporting and to assist investors in understanding the company's business strategy by obtaining broad information, especially related to risk information. The sampling technique was purposive sampling and obtained 21 companies with a research period of 3 years. The data analysis method used is multiple linear regression analysis using the Statistical Package for Social Science (SPSS) version 20. The theoretical basis used in this research is signaling theory and stakeholder theory. Good corporate governance is assessed using the variables of public ownership, independent commissioners, and audit committees. Company characteristics are assessed using profitability and leverage variables. While the audit attributes are assessed based on the quality of the external auditor. This study uses the voluntary risk disclosure standard developed by Mokhtar & Mellet (2013) which amounts to 40 items and is calculated using the content analysis method. The results showed that only leverage have significant effect on the company's risk disclosure. Meanwhile, public ownership, independent commissioners, audit committees, profitability, and quality of external auditors had no significant effect on the company's risk disclosure.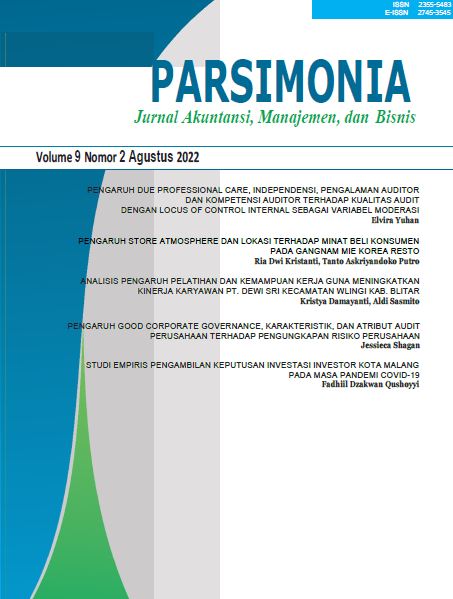 This work is licensed under a Creative Commons Attribution 4.0 International License.
Makalah yang disampaikan diasumsikan tidak mengandung bahan proprietary yang tidak dilingkungi oleh hak paten atau aplikasi paten; tanggung jawab untuk konten teknis dan untuk perlindungan dari bahan
proprietary merupakan tanggung jawab penulis dan organisasi mereka dan bukan tanggungjawab dari parsimonia atau staff redaksinya, penulis utama (pertama/yang sesuai) bertanggungjawab untuk
memastikan bahwa artikel tersebut telah dilihat dan disetujui oleh semua penulis lain. ini adalah tanggungjawab penulis untuk mendapatkan semua izin pelepasan hak cipta yang diperlukan untuk penggunaan
setiap materi berhak cipta dalam naskah sebelum pengajuan