ANALISIS PENGARUH PELATIHAN DAN KEMAMPUAN KERJA GUNA MENINGKATKAN KINERJA KARYAWAN PT. DEWI SRI KECAMATAN WLINGI KAB. BLITAR
Kristya Damayanti

Aldi Sasmito

Stieken Blitar
Keywords:
Training, Ability, Performance
Abstract
Research at the coffee plantation company PT. Dewi Sri to find the effect of the training and ability / work skills on employee performance. The methods of collecting data and information through questionnaires and interviews with 67 respondents. The data analysis is descriptive quantitative analysis with validity test, reliability test, classical assumption test (normality, heteroscedasticity, autocorrelation, multicollinearity), multiple linear regression, hypotesis testing (partial test, simultaneous test) using SPSS softwar. The variables are job training and ability / job skills (independent variable), and employee performance (dependent variable). The results of partial test shows the independent variables, that is job training (X1) and work abilities / skills (X2) each have an effect on dependent variables, that is performance (Y). Simultaneous test result show that the independent variable training (X1) and work abilities/skills (X2)have an affect to dependent variable, that's performance (Y).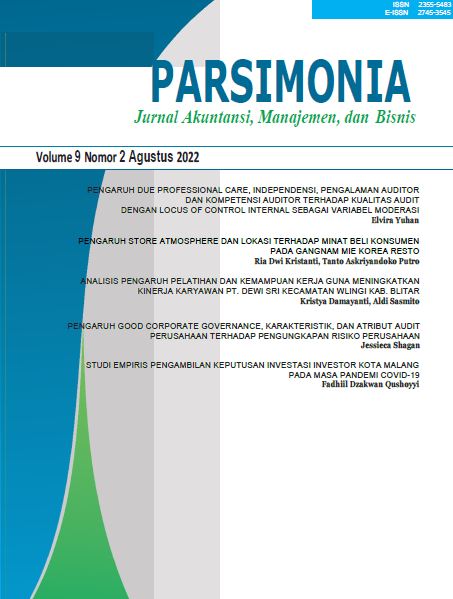 This work is licensed under a Creative Commons Attribution 4.0 International License.
Makalah yang disampaikan diasumsikan tidak mengandung bahan proprietary yang tidak dilingkungi oleh hak paten atau aplikasi paten; tanggung jawab untuk konten teknis dan untuk perlindungan dari bahan
proprietary merupakan tanggung jawab penulis dan organisasi mereka dan bukan tanggungjawab dari parsimonia atau staff redaksinya, penulis utama (pertama/yang sesuai) bertanggungjawab untuk
memastikan bahwa artikel tersebut telah dilihat dan disetujui oleh semua penulis lain. ini adalah tanggungjawab penulis untuk mendapatkan semua izin pelepasan hak cipta yang diperlukan untuk penggunaan
setiap materi berhak cipta dalam naskah sebelum pengajuan