PENERAPAN PENILAIAN KINERJA PADA TREND INDUSTRI 4.0
David Irawan

Manajemen, Universitas Ma Chung
Keywords:
Performance Appraisal, Industry 4.0, Human Resource
Abstract
Human resources are the most valuable asset in the running of industry. In its implementation, performance needs to be managed so that what is done is carried out efficiently. Performance management is important in the industrial world. One form of performance management is performance appraisal. Performance appraisal allows companies to measure the achievements of employees during a certain period. This can be a reference for the company to take policies in the future. In its implementation, performance appraisal requires a set of tools such as forms or questionnaires. Along with the times, the internet offers convenience that we can use to carry out activities both in daily activities to activities in the industry. Therefore, this article discusses how companies apply performance appraisal along with the times.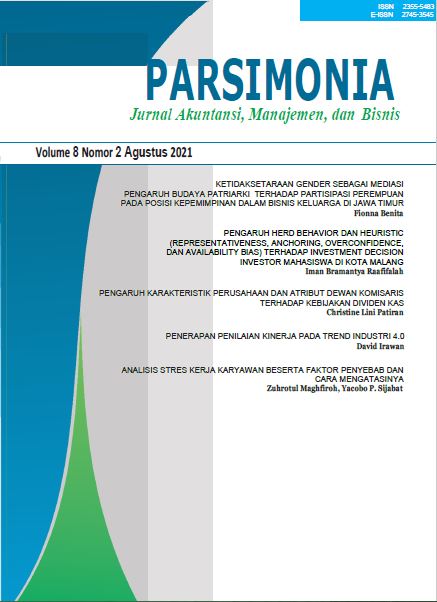 This work is licensed under a Creative Commons Attribution 4.0 International License.
Makalah yang disampaikan diasumsikan tidak mengandung bahan proprietary yang tidak dilingkungi oleh hak paten atau aplikasi paten; tanggung jawab untuk konten teknis dan untuk perlindungan dari bahan
proprietary merupakan tanggung jawab penulis dan organisasi mereka dan bukan tanggungjawab dari parsimonia atau staff redaksinya, penulis utama (pertama/yang sesuai) bertanggungjawab untuk
memastikan bahwa artikel tersebut telah dilihat dan disetujui oleh semua penulis lain. ini adalah tanggungjawab penulis untuk mendapatkan semua izin pelepasan hak cipta yang diperlukan untuk penggunaan
setiap materi berhak cipta dalam naskah sebelum pengajuan